I didn't want to say much about this for fear of reprisals but I don't think a small post here will hurt...it's not like I'm screwing up the set taking pictures.  
I've been using my old Impala on the production of "Black Mass" for the past month or so.  I'll post a little more later, but here's some stuff from Lynn the other day: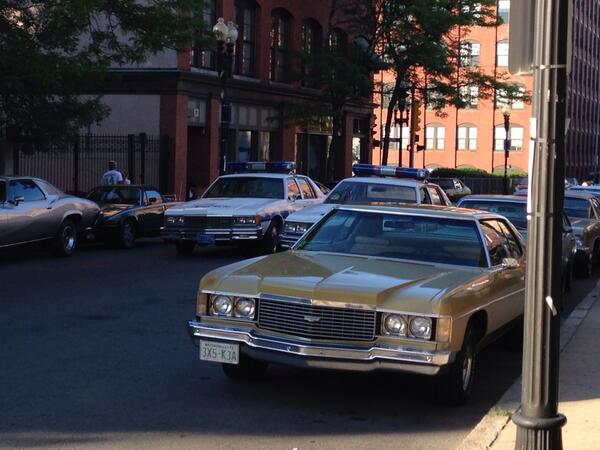 https://twitter.com/RobiWBZ/status/481026504290082817/photo/1
http://www.boston.com/news/local/massachusetts/2014/06/23/downtown-lynn-transformed-film-black-mass-with-johnny-depp/dzks35MKBpfVNEPQ06R24H/video.html
If you listen to the sound clip you can hear me being interviewed for WBZ 1030...guy came out of nowhere and apparently liked what I had to say even though I sounded like a complete and total fool.   

  That was a 6am call time and I was half paying attention.
When I was still on set, I got a text from Bill P./8bud saying he just saw my car featured on WBZ. I texted a few other people asking if they saw this but they said no...however apparently at 11 they showed the segment again, whatever the hell it was...my dad saw it and today a few people came up to me this morning in Boston and said the same thing.
They are using a couple late-70s Caprices as Boston police cruisers in this...they appear to have been nice cars that were just slapped together as "9c1s"...however I'm pretty sure that in 1979 if you got a 9c1, it would be an Impala, and wouldn't have pillow top seats and power accessories galore with no rear sway bars.  The hubcaps are the late 80s "CAPRICE" ones too... 

So far my favorite scene was when they closed down one of the drawbridges from Chelsea to East Boston (the longer one near Route 1) so you wouldn't see a Prius or something going across in the background.  They shut down the bridge, lined up four of us on each side, and then just had us go back and forth non-stop...it really magnified the time machine effect that to me is the real reason to have an old car.  The only thing you'd see coming at you was some period correct for 1975 unadulterated old car...it was awesome!
I've seen a lot of other photos taken by bystanders of my car as well as the others over the last few weeks, I'll post a couple more later on.